An Interview with Victor Mayovanex by Sharon German – NY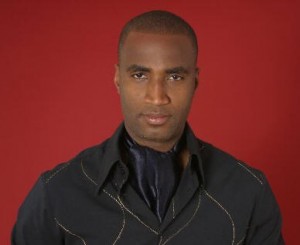 Sharon: First and foremost thank you for giving www.lavozdemambo.com an opportunity to interview such an exceptional dancer, instructor and choreographer. "La Voz del Mambo" would like to say thank you for your time, it is highly appreciated. How did you get started dancing salsa?
Victor: OK, wait a second let me get my calendar……. I have this stuff recorded……….(laughter). I started in 1996 under the instruction of Wilton Beltre, out of our well established friendship, when he left Santo Rico I took charge for two years. Then, in 1999 I founded Karisma Dance Company.
Sharon:One of the things that amazes me are your unique choreographies. What in the music moves you for you to get inspired and create a choreography?
Victor: First of all, I need to be able to identify with the music, so that I can express a choreography. I also not only consider if I like the music and the choreography, but will others enjoy it as well. After all, you not only perform for your self, but even more so for an audience.
Sharon:What should a new, up and coming dance company consider before revealing and landing themselves into the scene?
Victor: A dance company should be alert to what is already happening on the stage, so that they can bring and offer something new and different. If they are not going to share something new and/or different, it is best to not try anything at all.
Sharon:Very interesting, so what new and innovative things does Karisma offer to the scene?
Victor: When I decided to form my own dance company, I noticed that even though everyone was good at the time something was missing. I felt personality was missing, which explains the origin of Karisma (Spanish for Charisma). "Karisma" was the not just the attribute I wanted to express on the stage, but it was also the quality that I thought was missing from the scene. "Karisma" was meant to represent the details from the clothes we wore, to our elegance and potentially to our performances. Therefore, our goal when we are on the stage and everything that is executed one the stage is just simply Charismatic.
Sharon:Who have been your mentors in your career as a dancer?
Victor: Wilton Beltre, I have admire him as a dancer and as a person. Eddie Torres, the day a story is written on the history of mambo dancing his name will be the first to appear on the list, and Delio Thomas for being so classic on his dancing.
Sharon:Why was it that in the past Karisma was not involved and/or participated in venues for the mambo dancing crowd?
Victor: I had realized that mambo dance companies are only known within the mambo dancing scene. So, I wanted to go beyond the mambo community and explore a larger entertainment. It is for that reason we continue to perform for channels like NBC, places like the Lincoln Center and for organizations like the United Nations. We have had the opportunity to open for artist such as, Grupo Niche, Gilberto Santa Rosa and Sergio Vargas.
In 2001 we also had the opportunity to open for the ACE awards. We've had the pleasure to perform for names like Hillary Clinton and we continue to be the officials dancers for the renown Hispanic radio station in the city of New York, "La Mega".
Sharon:In the majority of dance companies there is always a dramatic difference between the student group and the professional team. However, your student group is the equivalent of any other professional goup. Now, I know this might sound kind of awkward, but why is your student group so good?
Victor: For respect to the audience. Just because it is a student group your expectations shouldn't be low. In fact, when I need to add a member to the professional team I use a member from the student group.
Sharon:When you ask certain people what does salsa provides for them in your life, some people say; "It is therapeutic, it heals me emotionally and spiritually"; others may say, "It fills in my schedule"; while others say, "It is an aerobic exercise". So, I'm curious to know; what is salsa providing for you?
Victor: It is a form of entertainment. Also, throughout salsa I receive the opportunity to meet people, many times good citizens but unfortunately other times the contrary. Since salsa is an art form, salsa is also a compliment to my job, I'm a promoter of spectacles.
Sharon:Your partner, Amanda Estylo; what has been the experience in working with this marvelous, talented dancer?
Victor: Amanda Estilo in my opinion is probably one of the best performers that can transmit and convey to an audience what the music and choreography is trying to say. She is a professional, she is humble and she is disciplined. Most people only know Amanda best when it comes to dancing, but the truth is that not only is she a stunning dancer, but she is flexible and the best to work with.
Sharon:It is evident by the reflection of your students and yourself, that your technique and formula of instruction are right on the money. What do you think is required of a student to become a good dancer?
Victor: First of all, the person needs to have talent and they need to know what he/she wants. They need to know when to listen and everyday they should try to learn something different, but very important they should practice that material so that it remains with them. The person should belong to a good dance school and be very aware that his/her discipline and talent can take him/her where ever they want.
Sharon: One of the many things that I respect and admire about you is that you are never involved in "Bochinche". When I have seen you at the salsa congresses you come in, teach, perform, socialize and complete your job, which probably explains why you are respected for more than just being a great dancer, instructor and choreographer, you are also respected for your over all person. How can someone, in this case a well established prominent dancer, avoid the negatives vibes and the competitive atmosphere from the scene and still be able to remain focus and productive?
Victor: What I try to do is be better everyday as a person and that can only reflect on my students and my dance company collectively as a whole. I admire everyone else, but the idea is to compete only with your self.
Sharon: What would you say are many dancers lacking today?
Victor: This is a tricky question because, what one dancer might lack the other dancer might have an overflow of it. What affects one dancer might not be the effects of another dancer.
Sharon:Who are your favorite dancers and/or dance companies?
Victor: Certainly, all of my dancers from my dance company. Outside my dance company, Victor Pacheco "Vittico" and Ismael Ottero for being so unique and different. Among my favorites on the list is also Franklin Diaz, Frankie Martinez, Juan Matos, Raffy Corniel, Amanda Estylo, Kimberly Flores, Nancy Ortiz, Griselle Ponce and Arlet, just to name a few. My favorites within dance companies include, Eddie Torres, he is the father of what we are doing today. I would also have to say Yamulee and Caribbean Soul, for being so different.
Sharon:What do think a dancer at a professional level should expect from the public?
Victor: "Que se le respete" ("He deserves to be respected").
Sharon:Thank you very much Victor. Thank you for your time, your sincerity and your contributions to mambo dancing. You are admirable and a pleasure to speak with.
Victor: Thank you, the pleasure was all mine.
Victor Mayovanex
www.karismadancers.com
---