An Interview with Mr. Jimmy Bosch
By Sharon German
Sharon: Thank you for giving La Voz Del Mambo an opportunity to interview you. I feel very privileged in doing an interview with such an exceptional artist like your self. We would like to say thank you for taking out your time. We feel immensely honored.
You started playing professionally at age 13, but when did you start playing in general?
Jimmy: You know it is a very good question because, a lot of people tend to misinterpret the exact time I started playing. I started playing when I was 11 years old. When I picked up the trombone at age 13, it was here I began to play with surrounding local groups. The first group I belonged to was called, "Arcoiris" it was a merengue group. It was very loose music and I had fun. It was also at this point I started arranging music and creating "Monas". In other words, I was improvising which is my forte.
Sharon: What moved you about salsa then and is it the same movement now?
Jimmy: Well you have to remember that I grew in a Puerto Rican household, where the music and dance was always present. I grew up listening to El Gran Combo, Eddie Palmieri, Johnny Pacheco and so on. What moves me today are the same elements that moved me then. The passion for salsa music and the freedom to express. I'm a lover of salsa dura and I just bring my music back to its roots by keeping it real.
Sharon: I remember talking to Johnny Pacheco one time and he said, "Jimmy Bosch…… I love that man, he is like a son to me." How do you feel in reference to this comment?
Jimmy: It brings tears to my eyes to hear you say that. I feel really blessed. Johnny Pacheco is my ultimate hero. That's one of the biggest compliments for me. It's funny because, today's image of my band is similar to Johnny's band image back in the days. He played music that was alive and he was always energetic on the stage moving from side to side. I feel honored to receive compliments and to know that these legends appreciate my contributions to music.
Sharon: Jimmy, I believe that what gives people an extra edge in life is not only an amazing talent, but even more important to a certain degree, an amazing quality. What qualities about your self would you say has taken you forward?
Jimmy: My upbringing as a son was filled with love, as a father and artist it is filled with love. I have great gratification for appreciation. I'm also the type of artist who enjoys being with people. I'm not the type of artist who is going to have a troop of security guards back stage. You will always see me on the dance floor with the rest of the scene. I like to be with people, interact with them and sign autographs; and I always try to give everyone the same amount of love and appreciation with no difference.
Sharon: Jimmy, I feel that you truly are everything an artist should be; you are charismatic; you master an instrument, you are a director and everyone loves you. However, what even separates more from the rest is that you are also a composer and a lyricist. I mean, I must ask; where is all the inspiration coming from?
Jimmy: Well, when it comes to my compositions I use my personal real life experiences to write music. When people ask me, "Who is Jimmy Bosch?" I say, "Well you have not yet listened to my music." The music I write is about my life. It reflects passion, sadness, happiness, and all human emotions. My goal is to make a difference in the lives of people. The lyrics of my music are healing power. I do volunteer work and I visit institutions where drugs addicts reside. Through my music I try to reach people, help them fight their sicknesses and help them escape their insanities.
Sharon: Why did you select to play the trombone?
Jimmy: Honestly, it was the last instrument left in school. I was in the 5th grade and I had asked for a saxophone, but none was in store. A couple of years later I had fallen in love with the instrument. I was soon to discover that I had a talent that didn't come very often and that was the talent to improvise. I was listening to music and developing my ears.
Sharon: When you are improvising or playing a solo, what is going through your mind? Jimmy: Oh, very little. This is like a meditative experience for me. You have to be so focused that all thoughts are removed, similar to yoga. When I'm improvising or playing a solo I'm too concentrated on the next note that I'll play. This is the creative sense of my face.
Sharon: As musicians we develop so much interest and appreciation for all forms of music. At the commencement of your career did you intend to specialize in salsa.
Jimmy: Yeah, it was my calling. When I was 13 and I received my first $75 for playing, I knew I was going to do this for a while.
Sharon: In my opinion, you are by far one of the most involved artist with the salsa dancing scene. How does it feel to be annually invited to numerous salsa congresses?
Jimmy: You have to remember, there are hundreds of salsa congresses all over the world and every year there are more and more. I love "salsa dura" and that's the area in which I excel. I want to educate people and especially my young listeners about my music. So, whenever you hear Jimmy Bosch's band is going to be present, you know it is going to be exciting and it is going to move you. This is what gets more invitations.
Sharon: You have Puerto Rican heritage and you were born in New York. Do you think your music is representative of both cultures?
Jimmy: Absolutely, there is the New York sound and then there is the sound of Puerto Rico and both are absolutely representative of my culture. Despite that I was born in New York I always felt very comfortable with salsa music and that I owe that to my parents. In my music you will find all the elements of the way I live.
Sharon: Right now, if I was to ask you to invite three musicians to your band who will they be and why?
Jimmy: They would have to be "Soneros". I would invite my lead singer, Ray Bayona. He is a natural singer. I would invite Pablo Vasquez, Ruben Rodriguez, and Cachao anytime. These artist all have the same passion and commitment.
Sharon: Which one of your albums would you say is most representative of you?
Jimmy: I would have to say, "El Avion de La Salsa."
Sharon: A lot of people might not realize how physically and mentally exhausting it is to persistently perform and travel. How do you relax your self outside the form of art and music.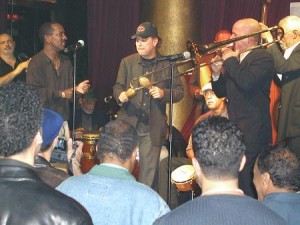 Jimmy: More Salsa!…(laughter). You know Sharon there is hardly enough time, but I exercise on a regular basis and eat healthy. When I go away on tour, publicists and managers will ask, "Where is Jimmy?" Someone will reply, "He went out for a jog!"
Sharon: What I like about you so much is that your music is alive and as a young artist you are not following the trend of trying to make salsa music that is romantic with a ballad twist. What can you tell me in regards to this comment?
Jimmy: I'm a purist. I like music that makes you move. I'm happy, authentic and this is representative of my music. My goal is to respect and honor the formal musicians that came before me.
Sharon: What message do you send to all salseros?
Jimmy: Buy my records!….(lol). Take a stand to the format you really have. Come up and participate with the band and support live music. Salseros don't understand how important of a role they play. Look to educate and empower people.
Sharon: Jimmy, thank you so much from the bottom of my heart for taking time out of your busy schedule and dedicating time for this interview. I'm mesmerized not only by your music, but by your genuine heart as well.
Jimmy: Sharon, thank you! It was my pleasure in doing this interview.
www.jimmybosch.com
---