An Interview with Junior Alabi (San Francisco) by Johnny Johnson
Johnny: First and foremost, thank you for doing this interview with LVM. You and your sister are phenomenal dancers and performers! You'll direct The Amicitia Dance Company and you guys have traveled the world teaching and performing salsa; despite the fact that you're both pretty young. During a discussion, I referred to you and your sister as the future of salsa and Victor, from Hacha Y Machete, corrected me and said, "No, they're the present!"
First, I have to put you on the spot and ask your age?
Junior: I just turned 20 this month on the 11th of October.
Johnny: Second, for those who may not have heard of you, can you tell us a little bit about your dance background and how you got into dancing and performing salsa?
Junior: My sis and I are 5 time National and International Professional Salsa Dance Champions. We have traveled, taught, performed, and competed all over the world. We will be representing the Bay Area in Las Vegas for the World Salsa Championships in December. We are so grateful to the people that had faith in us along the way and continue to do so.
This is how it all started for me. Like my sister said in her interview the reason I started dancing and I got into salsa was because my Dad was a dancer with The Latin Symbolics and he wanted my sister and I to get involved. He started taking us to the salsa classes twice a week with dance champion Ava Apple.
At first we hated salsa because we were all up in the hip hop scene and didn't really find interest in it. Also my sis and I used to play a lot of sports so dancing salsa, to us wasn't really appealing. After going and hating it for a while, for some reason I grew to like it. Ava asked my sis and to come audition for her team, The Latin Symbolics. She kept us on and I liked it so I kept coming.
Two weeks after our audition I had to Perform a men's shine routine at the Bill Graham's Civic Auditorium in San Francisco for a huge event that was put on in memory of Tito Puente because he had just passed. Performing at that event just opened my eyes to a whole new world. Performing on that stage with a live band and thousands of people cheering in this huge stadium was something that I never thought I would ever do and I loved it.
After that I started going to Salsa Congresses and saw the amazing dancers and performer's that travel all over the world to perform and teach, and that's when I new I wanted a future in this scene.
Johnny: As I mentioned before, you are the director of Amicitia Dance Company. How does it feel to be the director of a dance company at such a young age?
Junior: It feels really good. Although it is a challenge, it is rewarding to see people grow as dancers. It's a great feeling to see your dancers progress and get better and better. To have people want to learn and adopt your style of interpreting salsa.
Johnny: What challenges have you faced as a director?
Junior: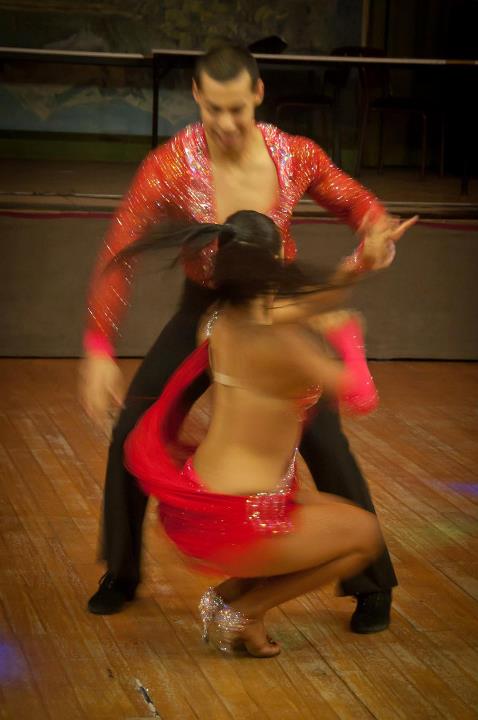 ced many challenges, but the biggest one of all is constantly pushing each person as an individual. Finding each individual's weakness and pushing for them to correct it.
Johnny: You and your sister form an awesome performance couple. How would you describe the experience of working with your sister?
Junior: I love dancing with my sister. In my eyes she is one of the most talented followers out there. She constantly pushes to get better and is a constant drive in our progression to be the best we can be. I wouldn't choose any other partner/sister over her. Don't get me wrong, like any other couple we have our arguments and disagreements but in the end everything comes together and we become stronger together.
Johnny: You guys have been gaining some national and international recognition. Currently you guys are the premiere advertisement for the Salsa Congress in the Philippines. How does it feel to gain so much recognition beyond your local salsa environment?
Junior: It feels good. We thank David Melendez, Albert Torres, and other Promoters out there that have given us the opportunity to share our talent with the world.
Johnny: Who has been your most influential dance instructor or primary source of inspiration?
Junior: I would have to say my most influential dance instructor would have to be the one and only Ava Apple. She was our first teacher ever. She's a great person and instructor who gave us a great structure and lead us toward the path of competition, which has pushed us to where we are right now. We owe everything to her and we wouldn't be what we are as dancers today if it wasn't for her. She deserves all the credit.
Johnny: Who are some of your favorite dancers and performers?
Junior: Some of my favorite dancers and performers are:Fernando from Tropical Gem; Johnny Vasquez; Frankie Martinez; Victor and Burju from Hacha y Machete; and Juan Matos. I love watching all of these people tear it up on the performing stage as well as the dance floor.
Johnny: Where would you like to be in the next 5 years within the world of salsa dancing and beyond?
Junior: I would like to be one of the Top Professional Salsa Dance couples in the world. I would want to get to perform and instruct salsa out to a more mainstream level. Hopefully be able to dance and premier in movies and commercials. Just be the best dancer I can possibly be and try to make it in the Entertainment business. I want to be an inspiration to the world of dance. All my future goals I want to achieve with none other than my sister.
Johnny: Any additional comments:
Junior: I want to thank you so much for the interview. I also want to thank those people again who have supported us and continue to support and believe in us. My sister and I hope to grow as Dancers and continually push to be the best that we can possibly be. I appreciate everybody who took the time to read this interview and am so grateful to the people that we're always there for us when we needed them.
Junior Alabi
www.juniorandemily.com
---