An Interview with Ms. Emily Alabi – San Francisco
by Johnny Johnson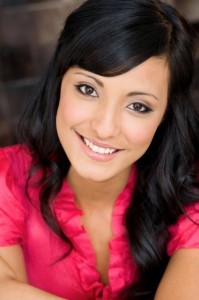 Johnny: First and Foremost, thank you for taking time out to interview with www.lavozdelmambo.com It is truly an honor to interview you. The first time I danced with you was in 2003 at the L.A. congress, I couldn't believe that you were as good as you were despite your age. I knew right away that you would be a salsa superstar some day. Then I watched you dance at the 2004 L.A. Salsa congress and realized; despite you age, you already were a major salsa star. Wow, what a difference a year makes. Many well-known dancers describe you as a salsa teen prodigy! Your talent level for this dance is amazing! It's scary to think about how good you will be 5 to 10 years from now if you decide to stick with salsa dancing. How did you get into salsa? How old were you when you started?
Emily: The reason I started dancing and I got into salsa was because my Dad was a dancer with The Latin Symbolics and he wanted my brother and I to get involved. He started taking us to the salsa classes twice a week with dance champion Ava Apple. The funny thing is that at first we didn't like salsa at all! We were so involved in sports that we never realized how much fun salsa dancing brought to our lives. We always complained that we didn't want to go to the classes, but now dance is our life!
Our eyes were opened to salsa when for the first time we went to the L.A. salsa congress. After seeing all of the amazing dancers, and seeing how much fun it was, we were determined to learn and be great. I was about 9 or 10 when I first started taking classes.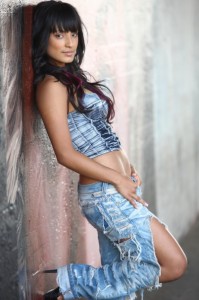 Johnny: You have more salsa accomplishments as a youth than most salsa dancers will have in a lifetime. Some of these accomplishments consist of the following:
First Place in the amateur category at the hustle and salsa event in San Francisco.
First place in the 2003 professional on2 international competition at the San Francisco congress.
First place at the 2004 pro-am competition in Miami.
First place at the 2004 Jack n Jill professional division in San Francisco.
Currently 2004 professional European champions.
2005 Palm Springs the New Year's World Swing and Salsa Masquerade Ball.
Traveled, taught, performed and competed all around the world in many places such as: Los Angeles, New York, Miami, Hong Kong, Puerto Rico, Holland, Seattle, San Diego, Chicago and Germany.
Performed on T.V. (Telemundo, Univision)
Co-Produced in the creation of Instructional DVD's with dance champion Ava Apple.
In addition, you are a straight A student in High School. Wow, your parents have obviously done a wonderful job! How does it feel to have accomplished so much as such an early age? What are some additional goals you plan to accomplish within and outside of Salsa?
Emily: It feels really good to realize how much I've done with my life, and to do something that I love with the people that I love. I'm still so young and I want to do A LOT more with my life, and accomplish everything that I possibly can. I always want to be positive at what I do, and really try to do something with my life.
I'm really thankful to God, my Dad, my Brother and all the people who always support me no matter what Kind of situation I'm in, especially Ava Apple, without her I wouldn't be where I am today. They always tell me to keep my head up, and to always be strong. My goals are to achieve dancing as a professional career, to be an inspiration to everyone, to always be positive and to always help and be there for people, and especially the people that I love, and to always be the best I can be.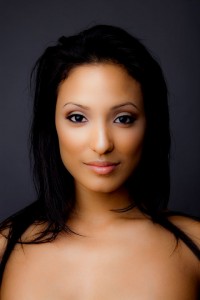 Johnny: Most of your salsa accomplishments have taken place with your 19 year-old brother/partner Mario "Junior" Alabi. How would you describe this experience? How has your brother contributed to your growth as a salsa dancer?
Emily: I would describe this experience as a blessing. I feel that I'm lucky because I'm able to do something that I love with the person that I love. He's always right there on my side, pushing me, and supporting me. Trust me, it's not easy! We disagree and bump heads a lot, but it's All worth it in the long run.
Dancing helps us have a closer relationship because we have to learn how to trust and communicate with each other. I have to admit that one of my best friends is my brother because he understands me a lot. He is the one who has pushed me from the get go, and trust me he will not stop until we have achieved our dream.
Johnny: Who are some of your favorite salsa dancers, instructors, performers and/or groups?
Emily: Some of my favorite dancers are Burju from Boston, Griselle Ponce, Frankie Martinez, and Juan Matos. Some of my favorite groups are Tropical Gem, Fogarete, Carribean soul, and Santo Rico.
Johnny: Any additional comments:
Emily: I want to thank you Johnny so much for giving me this opportunity. This is my first interview so I hope I did well. I remember you at the L.A. congress, and I'm glad that I had the opportunity to dance and meet you. You were a really good guy, and a very nice person. Again, thank you so much, and hopefully I'll get to see you soon again at another congress!
Emily Alabi
---