An Interview with Ivona Bochinska (NJ) by Shakira Taveras (Tampa)
Shakira: First and foremost, thank you for granting La Voz Del Mambo an opportunity to interview you. You are very much admired in the NY/NJ scene and beyond. You are one of my favorite dancers to watch both socially and on stage. I was first exposed to your dancing at the 2004 Miami Congress; since then I've been a fan of your unique and playful style. Can you tell us how you got started, what motivated you to become a mambo dancer?
Ivona: Thank you Johnny for extending the invitation to be a part of your magazine and to you Shakira for agreeing to interview me. I started dancing Mambo approximately six years ago after seeing dancers in local New Jersey clubs. I clearly remember Ismael Otero and his sister Irene throwing down every Friday and Saturday and I recall wanting to one day be able to do that.
I learned about the on2 style of Mambo, picked up the Eddie Torres timing tapes and threw myself into the social scene. I haven't stopped since. Thanks to those patient men out there for letting me step on their toes, for helping me learn the count and for taking me out to dance no matter how bad I was.
What motivated me the most? I think for once in my life it was ok to be who I was. No pretending, no trying to fit into the cheerleading squad…. I was just me at it was ok. No one seemed to be judgmental, people were concerned with only dancing and didn't bother with where you came from, what language you spoke or how looked. It was MY time away from reality. To the beginner, the outsider this was the perfect escape. It felt good.
Shakira: What about Mambo captivated you that other styles of dance lacked? With so many great dancers in NY/NJ, what continues to make you evolve and stand out as a mambo dancer?
Ivona: Honestly, I cannot compare any other genres of dance to mambo as I was never involved in dance prior to this. I can tell you what keeps me here. It is the music, the friends I have made over the years and the way dancing makes me feel.
The atmosphere is (generally) pleasant, but like with any situation in life, this scene is a representation of the human nature, of all people. There are ups and downs in families, at work, in relationships. What makes anyone think there will not be any "drama" (as we call it) in this little world we created and live in? You have to live and learn how to deal. Suck it up and drive on!
I let myself go out on the dance floor and educate myself about the music. You have to know the music itself in order to best express it. Through dance, you speak can to your partner, to yourself, to others. What makes me stand out? Wow, only those who feel I do can tell you that.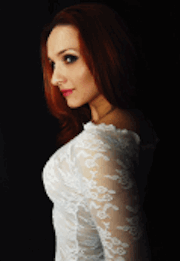 Sharika: You have worked with some of the best mambo dancers/groups in the NY/NJ area, including Estilo Clasico with Jai and Candy and Santo Rico. Who else have you worked with? What has been your most gratifying experience in your years of dancing mambo?
Ivona: I had the pleasure of working with directors such as Amaryllis Cintron, Ismael Otero, Luis Zegarra, Angel Ortiz and Seaon Stylist along with many, many wonderful and talented dancers. I cannot say that any of the experiences I've been granted have not been gratifying in their own way. But the most challenging dance experience had to be the first performance with Santo Rico in London.
I "grew up" in the scene looking up to their name and being allowed to experience such intricate and hard-core choreographies was a dream come true. Currently, working with Mario B has allowed me to express my style and get ideas out of my system that every dancer has at one point or another. As much as it is dance related, this brings the most personal satisfaction.
Shakira: Who are some of your favorite leads on the salsa scene? Who are some of your favorite female dancers? Any one in particular you look up to?
Ivona: Shakira, I said politically correct questions, please! LOL. Just kidding. I have danced socially with the best of the best. There are many great leads out there, and there have been some in the past who no longer come around. 🙁 But, nevertheless, Mario B can handle me effortlessly. Super Mario from the UK, Troy Anthony (and Georgette-thank you for the dance girl), Nelson Flores, Vitico, Jhesus Aponte, Guillermo, Manuel (Karisma), Rudy, Edgar, Benjamin. I cannot name them all. The list goes on and changes all the time.
I have tried not to "look up to" one female in particular. I never wanted any one to say I copied or looked like this one or that one. I have learned a lot from many throughout the years simply by seeing them dance and being inspired. It would be unjust to categorize anyone, but there are the social dancers who are untouchable.
Then are those who are amazing performers. I love to see Liz (SR) dance, Amaryllis Cintron, Amanda, Nancy Ortiz, Janet (Karisma), Stracy Diaz, Griselle Ponce, Lori Perez, Marielys Molina. I just love to see anyone who is free out there and not preoccupied with the cameras or spectators; those who dance for themselves and their partner.
Shakira: You have excellent spinning technique besides the fact that you are a great freestyle dancer. Some male dancers, both from NY and FL, say that you are by far one of the best follows in the scene. What advice can you give those who ladies who are trying to catapult their dancing to another level?
Ivona: Oh boy. That took a very long time to accomplish. I remember tripping over my own feet doing one spin. Mario can vouch for that (wink). I observed how the top spinners spun, figured out the girls did it on one foot and kept trying it. Once I became comfortable enough to do one spin, I kept pushing myself.
Spinning well came after I learned how to use my body properly. Once you are comfortable on your own feet and learn how to trust your partner, how to "feel' their lead, you will be able to spin better. There are many ways to spin well in mambo, on one foot, spotting with one foot, on the heel (men) whatever your preference may be, but the most important things to me are balance, posture, momentum and spotting.
I think I learned how to follow well because I tried to dance with men on a level higher than I was. They challenged me and forced me to do what they wanted me to do otherwise I'd end up on the kissing the floor. I've been there before, trying to do my own thing. I still have my moments I guess, but I learned when it is appropriate and whom I can get away doing it with. Feel out your partner in the first few seconds of the song and let him dictate how to adjust your follow. Just as men must learn how to adjust their leads to the ladies they dance with, women should know that not every lead is the same and it takes a lot of compromise from both side to make an enjoyable dance.
Shakira: You currently perform with Mario B and his Plan B dancers. Not only is he your partner but one of your closest friends. Is this an advantage or disadvantage? How is this experience different from any other? What are some of your future plans with Plan B?
Ivona: Mario B! Yes, I feel it is an advantage that we are friends, not just team-mates. We have seen each other through a lot. We started dancing around the same time so we kind of grew up in this scene together even danced in a different company as partners. Because we respect each other, being on the same level, it helps when we have to work together. Of course, we have had our moments, but nothing that we couldn't work through. We communicate well, fix whatever may need adjusting and move on. He is challenging for me to dance with and that brings out the best in me as well.
Working with a friend more than under a "director" is more fulfilling because we compromise, hear each other out and do what's best for the company. I mean this is the closest I've been to seeing what a mambo director goes through; being involved in the creative process, the administration, promotion, planning. It's nice; it gives me a little tingle. With the support of the whole team, I think we can continue to create beautiful, entertaining choreographies together.
Shakira: Other than dancing, what other activities do you like to partake on in your free time? What else can you tell us about Ivona Bochinska?
Ivona: Besides dancing, I really enjoy to read about random subjects, researching things I find intriguing. I love to design costumes, paint and learn about art. I can be quiet, but I'm outspoken and brutally honest when necessary. I tend to take things into my own hands when they are not being taken care of.
I enjoy the arts, literature, nature and studying human behavior. Laughter and tears are equally satisfying. I'm very content with where I am right now. Everything in life could always be better, but instead of dwelling on things I like to be thankful for what I do have and the people who I allow to surround me.
Shakira: Any additional comments you'd like to share with the mambo community?
Ivona: Throughout the years I learned that not everything is what is seems to be. That unless you are in a specific situation and live the life of another, you will never know the reasons that drive us all to do what we do and the reasons why we all chose to dance.
Thank you for the interview and helping this community grow.
Ivona Bochinska
---