Interview with Andres Giraldo – Boston, MA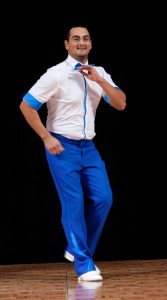 JJ: First and foremost, thank you for taking time out to do this interview with LaVoz de Mambo. Although I have seen your company perform on several congress tapes, my first personal exposure to Salsa Y Control was at the Houston Salsa Congress. I was throughly impressed with your level of social dancing and performing. How did you get into dancing and performing salsa?
AG: First and foremost, I will like to thank you for interviewing me, and sharing with others what Salsa means for me. I started dancing and performing salsa in 2000, 4 years ago. I grew up listening to this music back in Colombia, so I can say is in my blood since I was a kid, I love this music.
My encounter with salsa dancing was at the Salsa Web Convention in Washington D.C. 1999. My brother and I didn't dance salsa much, but we enjoy listening to it. In this event one of the bands that were playing was one of our favorite (Conjunto Clasico), we got registered right away bought our plane tickets for D.C. Our plan was to go see the band, we didn't know that so many great dancers were going to be there too. It was like a congress lots of dancing and music, I never seen that before.
I brought a video camera so everything that happen that weekend I record, I was so impressed by the dancing that in my head I said, I want to dance like this, I want to perform like that. When we got back home (Boston) all I did was watch the video over and over again, then I started copying everything that I liked. After this all I did was practice and practice everyday. Now it has been 5 years and with my own company Salsa Y Control I have accomplished one of my biggest dreams.
JJ: I have been told that you guys practice hard by some of my Boston sources. What type of hours do you put into dancing and performing? Are there any special drills that you guys implement into your training sessions?
AG: In Boston I teach everyday except Saturdays, 1-3 hrs daily. In Salsa Y Control we practice Fridays and Saturdays 2 hrs each day. I also practice/teach Tuesdays and Thursdays 2 hrs each day, for Salsa Encendida, a non-profit salsa company; and on my own, I practice footwork and body movement. Special drills that we do in our training sessions are, footwork drills, we do lots of footwork, isolations for body movement, spinning drills, and partnering technique.
JJ: Most salsa dancers never get the pleasure of sharing a common interest with a sibling. How would you describe sharing your interest in salsa with your brother? Has it brought you'll closer?
AG: Sharing salsa with my brother is unique; we both grew up together doing this. It's only us two so before salsa we were close anyway. But dancing and performing together has brought us even closer. We help each other a lot, whenever we have a partnering move that we want to try he follows and then I follow so we both learn it, in footwork what ever I make I teach him and it's the same from him. We're blessed to have each other, he has been my motivation and my support, and we love doing this together.
JJ: You have a very unique style of dancing. I tried to steal a couple of moves from you in Houston, but they were too fast : ) What do you attribute your style of dancing too? Are there any outside influences?
AG: My style of dancing is a mix of a lot of styles so I don't know how to define it. I love footwork mainly fast so that can be taking from Colombian style. I love afro-Cuban (Rumba) so I play with that as well. LA style and NY style has influenced my style, but I don't define it as either. I mainly dance On1, but my main idea is to play and dance with the music. You know I never thought about it, this is a hard question. 🙂
JJ: Any Additional Comments:
AG: I'm also a painter and my work is about salsa dancing, movement, and rhythm (artwork by Andres). If you're interested check our gallery at SalsaYControl.com
Andres Giraldo
---