Our Mission
LaVoz Magazine's mission is to be the premiere voice of the underground salsa and mambo dance culture. Our publication contains articles; interviews, and various artistic expressions that concern the global salsa and mambo dance community. Our goal is to continue to grow the salsa and mambo dance culture through online and print media.
About Us: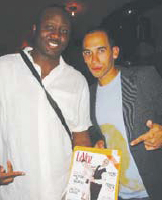 LaVoz Magazine is a publication founded by Johnny R. Johnson and Christian Soto. Originally known around the underground world of salsa dancing as a popular website; Johnny Johnson's online newsletter, "La Voz Del Mambo," gained notoriety by featuring popular articles and interviews with world-renown salsa musicians, as well as, interviews with some of the most popular and sought out salsa dance instructors, performers, and disc jockeys around the country.
After two years of producing "La Voz Del Mambo," Johnny Johnson partnered with Christian Soto, a successful event promoter, and took on the task of creating "LaVoz Magazine" a print media version of the online newsletter.
LaVoz Magazine made its debut in July 2006 featuring a cover story with the Director's of Hacha Y Machete Dance Company, Victor and Burju. The premiere issue also featured interviews with salsa music pioneer, Bobby Cruz; mambo dance founder, Cuban Pete; and world-renowned salsa dance instructor, Eric Baez.
Additionally, LaVoz Magazine's Fall Issue featured profiles, reviews, articles and more. The Fall Issue of LaVoz was a huge success and the Winter Issue will be released on November 17th 2006.
Johnny R. Johnson
LaVoz Magazine – Publisher / Co – Founder
Salsa Dancing
Johnny Johnson has been a salsa dance enthusiast for the past five years. His initial salsa training took place in Chicago, IL at Latin Street and Latin Rhythms Dance studios. Eventually, Johnny began training under the tutelage Mr. Sekou McMiller, Artistic Director of Descarga Caribe Dance Company. After several years of training in Chicago, Johnny moved to Atlanta, GA; where he has gained experience performing and teaching salsa around the country.
LaVoz Magazine
Prior to starting his own magazine, Johnny was a selected to write a regular salsa column in entitled "Atlanta Talks" in Salsa Y Mas, a New York based salsa magazine produced by Mr. David Melendez. In addition, Johnny also maintained his own online salsa newsletter, "La Voz Del Mambo" which quickly became one of the most popular salsa website in the underground scene. "La Voz Del Mambo" featured interviews with world-renowned salsa musicians, dancers, disc jockeys and promoters. Some of the most notable interviews include: Jimmy Bosch; Oscar D'Leon; Johnny Pacheco; Oscar Hernandez; Juan Matos; Burju Hurturk; Sekou McMiller; Mario Hazarika; and Ismael Otero just to name a few.
Johnny eventually partnered with successful event promoter, Christian Soto, and produced LaVoz Magazine; a print media version of "La Voz Del Mambo's" online newsletter. LaVoz Magazine's premiere issue was released in July of 2006 as a quarterly magazine. LaVoz magazine has received rave reviews from customers all around the world and has been considered the most popular underground salsa magazine currently in circulation.
Outside of Salsa
Johnny Johnson is currently employed as a professional web developer at a software company in Alpharetta, GA. Johnny received his Bachelor's Degree from Tennessee State University in Computer Science and is currently in the final stages of completing his Master's Degree in Information Systems at Keller Graduate School of Management. In addition to his experience with Information Technology, Johnny is a 3rd Degree Black Belt in Shorin-Ryu Karate and an accomplished poet. Johnny has had his poetry published by "The American Poet Society." Additionally, Johnny is the Executive Editor of Auburn Avenue Magazine, a publication that "celebrates and inspires urban entreprenuership" scheduled to be released in the spring of 2007.
Christian Soto
LaVoz Magazine – Executive Editor / Co-Founder
Salsa Dancing
Christian Soto started his salsa dancing career three years ago in the Bronx, NY at the Mambo Con Cache dance studio directed by Juan Portella. Soon after beginning in New York, Chris moved to Miami where he continued to take classes with the Florida branch of Mambo Con Cache. Throughout this time, Chris became an avid social dancer, frequently traveling to different cities and salsa dance conventions. After a year in Miami, Chris ventured off into the promoting arena and began organizing dance socials. They quickly became popular and led to the creation of the extremely successful and popular Miami Mambo Project. This project is annual event that brings salsa dancers from all over the world for a weekend of workshops, performances, and social dancing.
Chris currently manages and performs with the world-renowned Hacha y Machete Dance Company. As a result he has traveled throughout the US, Canada, and Europe sharing his unique style and charisma.
LaVoz Magazine
Through various interactions at salsa events, Chris and Johnny shared ideas and ultimately joined forces in order to bring a unique and dynamic project to the underground salsa and mambo dance culture. Using his skills as a promoter and manager, Chris has succeeded in bringing fresh new ideas to LaVoz that has helped it stand out among the other publications.
Outside of Salsa
Chris Soto currently serves as a Coast Guard Officer in Staten Island, NY. He leads an anti-terrorism team that specializes in boarding commercial vessels for inspection prior to entry into US ports. Chris received his Bachelor's Degree in Operations Research and Computer Analysis from the US Coast Guard Academy. While at the Academy, Chris was nationally ranked 5th by the National Collegiate Boxing Association in the 132 lb weight class.