Interview with Jai Cantalano – New Belleville, New Jersey
JJ: First and Foremost, thanks for taking time out to do this interview for LaVoz de Mambo.You may not remember this, but my quest to begin dancing mambo started when I saw you and Candy dance at Babalu's in Chicago, IL in the fall of 2001. I had been taking Salsa lessons for a while and thought that I was becoming pretty good; then I saw you guys dance and I knew from that point forward that I had to learn the NY style of dancing Salsa. At that time, I was unfamiliar with the concept of dancing On2, but I knew that you guys were doing something very different. Shortly after that, I started training On2with Sekou McMiller and rest is history. With that said, how often do you hear stories similar to mine? How does it feel to inspire people to dance through your performing, teaching, and social dancing?
JC: I have heard it said before that I inspire people and I am grateful that people have used me as a form of inspiration to get to another level whether in dancing or anything else. Without inspiration most people would not accomplish many of the things they do. I know it was only through my being inspired that I reached a level of success.
JJ: You and Candy have had some of the best Congress performances that I have seen. How do you come up with such unique ideas, concepts, and choreographies?
JC: Well, first off I want to say thank you for your comment. It is nice to hear that you have enjoyed our routines over the years. It is never easy to come up with unique ideas, and then again what really is unique, however, Candy and I try to create a routine that is different and far from our last routine. I would say for the most part we both have contributed numerous ideas for our routines and that no one is more or less involved in that creative process.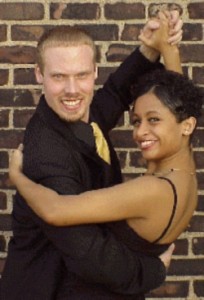 JJ: Hopefully you won't take offense, but I had difficulty believing that you were of Caucasian descent. You dance Salsa with a lot of soul. Are there any outside experiences, activities or hobbies that contribute to this?
JC: I don't take offense to that at all. In fact, I love being Caucasian. I receive a lot more attention than you can imagine because I am Caucasian and I love it. However, my influence or soul as you call it was being brought up in NYC. I was born and raised in an amalgam of races and cultures so the influence was inevitable. Ever since I was a young boy I have always been around Latin people and they have always treated me with such love, warmth, and respect that I am grateful to all the people that have guided me along my journey.
JJ: After achieving so much in the world of Salsa, do you lose inspiration at some point? What keeps you motivated to strive for more? What can we expect from Jai in the future?
JC: Well, I wouldn't say I lose inspiration. I would rather say I build on the inspiration and success that I have achieved thus far. Along with my travels around the world guiding people in their advancement in salsa, I have found recent success in the acting world. And once again I have found a good friend by the name of Teddy Garces, who is Latin, and dances for Santo Rico, who has guided me on my journey in acting while I continue my career in Salsa.
JJ: Any additional comments:
JC: Well, I would like to thank the Latin community in NYC and all the other people around the world who have given me this opportunity to come into their lives. I am grateful for my success. In addition, thank you Johnny for this interview. Best of luck!
Jai Catalano
JaiCandy@aol.com
www.JaiCandy.com
---