An Interview with Samantha Erskine – New York
by Johnny Johnson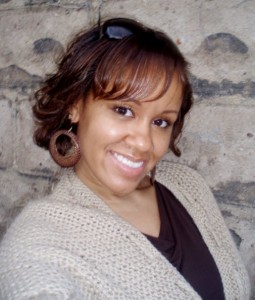 Johnny: First and Foremost, Thank you for taking time out to interview with www.lavozdelmambo.com Although I have not had the pleasure of dancing with you, I have had the opportunity to witness your tremendous talent on many occasions. Your level of dance provides inspiration to many dancers throughout the salsa scene. How did you get into dancing Salsa? Who were some of your initial instructors?
Samantha: You know, when I was younger, my parents tried to instill in me an appreciation of Latin culture and music, but I wasn't havin' it. Instead, I preferred listening to R & B, hip hop, reggae and house/freestyle music, and I hated speaking Spanish! Now, when I look back, I WISH I had learned to appreciate my culture earlier. I would have learned to dance Salsa earlier, as well. Occasionally I would go to family parties, as well as parties at the Spanish-speaking Catholic churches in my neighborhood, and I would dance there, but it was never on this level of dancing…
I have always had a passion dance, though. I've been dancing for over 20 years… I've studied ballet, tap, jazz, street jazz & theater dance. I also did gymnastics, was a cheerleader for four years and competed with my high school's dance team. I didn't begin dancing salsa until after I graduated college.
In July of 1999, I went to South Beach with my then-boyfriend. We went to Mango's, where there was a band playing salsa, and it was as if someone had injected salsa into my veins because all of a sudden, I fell in LOVE with the music and salsa was running throughout my veins. When my then-boyfriend and I got back home (I lived in Maryland at the time), he and I rented "Dance With Me" and it hit me– I wanted "to dance like Vanessa Williams!"
So, the following month, I rounded up a group of my coworkers and we all went to an after-work salsa event (I had been trying to get them to go with me for an entire month, and they FINALLY went that particular day). We all participated in the very basic class that was held at the club and I immediately became hooked! My boyfriend-at-the-time HATED the fact that I was going out dancing and we fought about it all the time, but I didn't let that stop me from going out (I did compromise a little by just going out on Thursdays, but after he and I broke up, I was out every night of the week for MONTHS)! Luckily, there was a different club to go to, every night of the week in DC at the time…
Five months later, I joined the DC Salseros/Latin Vibez Dance Company and then I began my salsa "career". 🙂
I can't say that I had any initial "instructors," per se, though. I took that one basic class my first time going to a salsa club. After that, I took one or two classes from Ricardo Loaiza and Elba Garcia (in DC). Oh, and Eddie Torres came down to DC with Duplessey once and I took their workshop. Other than that, I simply learned how to dance salsa (I started dancing on "1") by dancing with some good guys– especially with my dance partner at the time, Dee Scott. Like I said, I went out every night of the week, for months… I can't even believe I did that… That life seems like so long ago… Well, anyway. I started learning how to dance on "2" by dancing with a guy named Shaka Brown (DC) every now and then when we would see each other at clubs. A few months after that, I started to practice/perform with an on "2" group in DC, directed by Harry Fry. I guess that was my "on 2 training"… However, my real lesson in dancing salsa/mambo began when I moved back to NY (which is where I grew up) and saw what real mambo dancers looked like… All of a sudden, it felt like I lived in a salsa "bubble" while in DC. Since then, though– Milton and James have helped "refine" my dance technique…
Johnny: According to a recent poll taken by "LaVoz del Mambo" you were considered to be on the best spinners on the salsa scene. What has contributed to your exceptional spinning technique? What tips would you offer to those individuals that aspire to be great spinners?
Samantha: I think what has helped me spin is my prior dance training. Spinning feels completely natural to me and it really has a lot to do with one's balance… I used to spin a lot better when I was not injured. However, I see the differences in my spinning ability now that I have ankle and knee injuries…
My advice to individuals who endeavor to improve their spinning capabilities is to: spot, stay balanced, and keep your knees and ankles close together… Don't try to overcompensate… Oh, and practice, practice, practice… Both Milton and James "tweaked" my spinning (and other dance) technique. They're really good at spotting bad habits that their students have and working with them to improve.
Johnny: You currently perform with the Cobo Brothers. Milton and James are arguably two of the best leads in Salsa. How would you describe performing, teaching, and dancing regularly with the Cobos?
Samantha: It's great! Performing with them has been a wonderful opportunity for me to improve my stage presence and to travel the world. As teachers, both Milton and James are very detailed and thorough in their teaching styles– far different than most instructors who only provide a surface level of instruction. I wish more people could lead like Milton and James. Milton, especially– because when I dance with him (as most women can relate), it feels like I am being whisked away. Yet, I feel completely comfortable and secure. I can't say that for many of the men who have led me. A lot of them would just throw me into a crowd or even spin me without looking around to see if they're throwing me into someone else… That's definitely one of my pet peeves… It's very frustrating…
Johnny: Besides being a great salsa dancer, what would you like people to know about Samantha Erskine?
Samantha: "Wow, thanks… 🙂 Well… Despite the fact that I share my life story with everyone who peruses my website, I am a pretty private person and enjoy having "alone" time. I used to go out dancing all of the time (ha- in my "younger" days), but these days, I don't have much free time since law school keeps me extremely busy!!! I am so glad I was able to enjoy life and travel for a few years before embarking on this journey to "adulthood"… I definitely appreciate the lighter side of life now that I HAVE NO LIFE (lol)… So, during my school breaks, I enjoy renting movies from Netflix, developing my culinary skills, traveling, and every now and then taking a dance class or going to the gym… I also love to write and occasionally write "memoirs" on my website (www.samanthaerskine.com)…"
Johnny: Any additional comments.
Samantha: None. Thanks for interviewing me… 🙂
Samantha Elena Erskine
---