An Interview with Carmen Taveras – NYC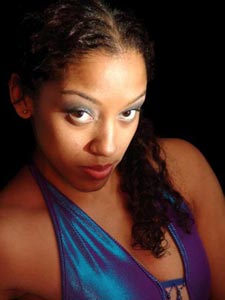 Johnny: First and foremost thank you for granting lavozmagazine.com an opportunity to interview you. You have been a member of the Santo Rico Pro team for several years. This is arguably one of the best salsa performance groups in the world. What type of impact has performing with Santo Rico had on your life?
Carmen: Well first I want to start by thanking you for this opportunity. It's truly an honor.
Being a part of Santo Rico for the past 3 years has been an incredible experience. Regardless of the metamorphosis it has gone through throughout the years I am proud to say that Santo Rico has been able to maintain its reputation of being one of the best salsa performance groups in the world. And to be a part of that still amazes me to this day.
It has been non-stop since Tomas asked me to be a part of the company and everyday –every rehearsal, every trip, every social outing; I learn more about my ability as a Santo Rico Dancer. The blood, sweat, tears & bruises (there have been many) that I have endured in Santo Rico have made me a stronger, more confident person. Tomas pushes you past your self imposed limit, and I am honestly grateful for that.
Johnny: You have previous dance experience in Rumba, Jazz & Hip Hop. How has this contributed to your tremendous salsa dancing abilities?
Carmen: Having started with Cecilia (CC) Williams & The Revelation Dancers in 1999 I was exposed to a little bit of everything. CC was very creative and wanted to incorporate anything from rumba to belly dancing into her choreographies, so she tried to train her dancers in as many forms of dance as possible. I don't have the training background as some of today's great salsa dancers but the bit of exposure that I did get from CC has lend to my training as a salsa dancer esp. in Santo Rico.
Johnny: Can you talk about your dance performance experience at the Apollo Theater in 1998; Along with any other pertinent dance experiences unrelated to salsa?
Carmen: HA!! That was so long ago. I started dancing late in life with a group of friends in High School. I was a back up dancer for a talented friend who had signed to a small record company. We did little showcases for about a year including the Puerto Rican Festival and the Apollo Theatre, both of which were a very big deal for us. Doing amateur shows like that is what got me into salsa dancing and prepared me for the stage.
I remember participating in a talent show for a church youth group in Brooklyn, and one of the performances was a salsa performance. The couple that performed awed me, I wanted to learn to dance like them so I looked into salsa dance classes…who knew id get to where I am now! All those shows cultivated in me a love for dance and performance.
Johnny: You have traveled all around the world performing with Santo Rico, what has been your most memorable experience?
Carmen: You know it's so funny we were actually discussing this amongst ourselves the other day and we couldn't pick just one, so I'm going to give you my top 3:
My first trip to Brussels for the first International Summer Salsa Congress in 2004. It was my first international trip. But what really made it memorable was the intimacy of that first congress. Fransisco Vasquez, Jobie, Yamulee, Nelson Flores, and countless other dancers and performers were all just hanging and having a great time dismissing all tensions that may have existed. There was such a great energy that entire weekend.
Our trip to South Korea: That was just a culture shock. We were lucky enough to find a pizza hut about a block from our hotel though, which was awesome. Not only was it a jam packed trip, but one of our dancers performed twice in one night with a sprained ankle (I still get chills) with a smile on her face and to top it all off….we were detained by immigration and forced to stay an extra day (don't ask!).
And the number one most memorable trip – the 2nd international Summer Salsa Congress…(chills again). We performed Gangster on a Saturday night. The energy on stage was incredible, we fed off our audience. I remember going into the last solo and seeing the entire crowd get up. Before I landed into the final pose the stage was bum rushed…the most incredible standing ovation we have received to date.
Oh and our trip to Italy when we got to visit the Vatican…and our trip to Hanover Germany where we all got stiffed…
Johnny: Who are some of your favorite salsa dancers and/or performance groups?
Carmen: I love this question. Not to be partial but Tomas and my girl Liz Chavieri she is a firecracker when she's on the dance floor. Yahaira Casanova & Pierina Sanchez are just nasty, the sultry Ivonna Bochinska, Mario B., Magna Gopal, Eric Baez, Adolfo, Patrick Rosheuvel, Brian van der Kust and countless others.
Performance groups – Ana & Joel (Masacote) have to be my favorite dancers hands down. She is so beautiful and has this mesmerizing fluidity to her dancing and Joel is just a force to be reckoned with. He is a great performer and awesome to dance with.
All of the Vasquez brothers are awesome performers-unmatched energy. Los bailarines de Puerto Rico! Jhesus Apone, Jason Molina, Tito & Tamara. There are so many beautiful dancers, I could be here forever. What I appreciate the most from all of these dancers is there effortlessness when dancing and performing, something I truly aspire to portray in my own dancing.
Johnny: Can you tell us something about Carmen Taveras that the salsa community might not know?
Carmen: Hmmmm……I love to eat! I'm teased by my team mates all the time. But really, what you see is what you get. I'm very laid back and free spirited.
Johnny:What are some of your short-term salsa and non-salsa goals?
Carmen: Short term salsa goals… well one of them would have to be to have a successful trip to Sydney with Tomas at the end of January. Being a good instructor, in January I will be teaching Ladies Spinning & Styling on Sundays and pray that I do a good job (cross your fingers for me).
Non-salsa goals-keep my job (lol), seriously I want to become better at what I do, I'm currently an executive assistant in a private school for autistic children in NYC. I would also like to pursue a graduate degree in Education Administration or Counseling.
Johnny: Any additional comments:
Carmen: Well Johnny I want to thank you again for inviting me to do this interview and for your patience! I also want to congratulate you on the success of LaVoz Magazine. Your aspirations for the magazine are fantastic and wish you continued success.
On behalf of Tomas and Santo Rico I would like to thank all of the SR supporters. No matter where we are in the world we are always welcomed and embraced with a smile and we are truly grateful. For all the salseros/as- always dance with conviction! And when it gets to be a bit too much for you remember that "dance is a little insanity that does us all a lot of good!"
Wishing everyone a prosperous new year filled with love, laugh & mambo!
Carmen Taveras
---