An Interview with Adolfo Indacochea Velazco (NY)
Johnny: First and foremost, thank you for giving LVM an opportunity to interview you. Your name frequentlysurfaces during discussions about rising stars in the mambo community. You initially started performing salsa in Mexico, then you moved to San Antonio, where you performed with The Semeneya Dance Company. Now you are living in NYC where you are performing with The Eddie Torres Dancers. That's quite a journey. What inspired you to began performing salsa?
Adolfo: Well, at the beginning, it started just as a hobby with a group of friends in Monterrey, Mexico; but pretty soon I realized that I was different person when I was on stage and I knew I was made for this. Performing also gave me the opportunity to challenge myself and to share my passion for mambo with the people.
Johnny: You were a very established On1 Dancer/Instructor/Performer prior to moving to NYC. What pronpted the switch to On2?
Adolfo: At New York Salsa congress 2003, my second congress, the moment I saw Eddie Torres Dancers performing Pa'lante from Tito Puente, which is my favorite routine in the company, then when I saw Eddie and Maria dancing Paloma with the company. I was just amazed by the musicality, the stage presence and the flavor that Eddie had. Since that moment I started dancing on2 all the time.
Johnny: You performed with the legendary, Ms. Amanda "Estilo" Moncion. How would you describe that experience?
Adolfo: It was a great experience. I found in Amanda an excellent dance partner, but the most important, I found a very good friend. She always gives me good advice, she taught me a lot about dancing and life. I have tremendous respect for her.
Johnny: Who are you currently performing with and how would you describe that experience?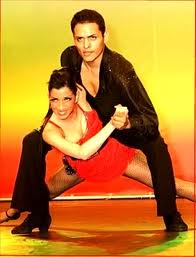 Adolfo: Outside Eddie's company I am performing with Jessica Ortiz. Let me tell you, there are very talented female dancers out there, but Jessica is something else, she is so graceful when she dances and make everything look so soft and easy. I have to be careful with her on stage though; she is just too much. She is "fierce" on stage.
Johnny: What are the most noticeable differences between living and dancing salsa in NYC as opposed to San Antonio?
Adolfo: Well, I have great friends all around Texas and there is a lot of talent there. They have a unique style. But, what can I say, there is no place like NY.
Johnny: Who are some of your favorite salsa dancers and performers?
Adolfo: Let me start with the guys. My favorite is my mentor Mr. Eddie Torres. But I really look up to Tito Ortoz (Puerto Rico), Frankie Martinez (NY), Franklin Dias (NY), Juan Matos (NY), Johnny Vasquez (Mexico), Adrian Arellano (Mexico) y Fernando (Tropical gem); just to name a few.
My favorites female dancers are Nadia Torres and Jessica Ortiz. In the mambo scene there are too many beautiful female dancers… just to name a few: Duplessy Walker, Griselle Ponce, Melissa Rosado, Amanda Estilo, Nancy Ortiz, Claudia Vazques, etc.
Johnny: What can we expect from Adolfo Indacochea Velazco in the near future?
Adolfo: You can always expect that I am working 100% on becoming a better dancer and 110% on a becoming a better person.
Johnny: Any final comments
Adolfo: I just want to take this opportunity thank Mr. Victor Mayovanex because he was the first person in NY to give me a chance to be part of a dance company. He is an excellent instructor and a very good friend of mine.
The second person I would like to thank is Mr. Eddie Torres because he believed in my talent, he believed in me and he has taught me everything I know. Thanks "Maestro" for the advice that you have given me and thanks for make me feel like part of your family.
Adolfo Indacochea Velazco
---