Interview with Super Mario – London
by Johnny Johnson
Johnny: First and Foremost, I would like to thank you for taking time out and doing this interview with www.lavozdelmambo.com Although I have a lot of favorites, you are hands down one the dancers on the scene that inspire me the most. Although you don't have the typical build of a dancer, you are undoubtedly one of the BEST! Your style of dance is amazing! How did this journey with Salsa begin for Super Mario?
Mario: I started salsa on July 7th 1998. I remember that date, as that was when my heart was broken, and my friend took me out to a salsa club. We were standing and having a chat, when a lady walked up to us and said, you guys are new. To which we said, yes…..she took one look at me and said, you have women problems, and not to worry and that salsa would change all that (boy, was she right !! ). She turned out to be the teacher of that class.
During that class, I couldn't do what was being taught, but she kept encouraging me by saying to the whole class, that the steps that I was taking was the way for it to be done. Don't forget, these are just forward/backward basic steps, ok, and I couldn't get it, as I have never danced in my life before. 😉
After the class, she comes to me and says….." From now on, don't pay for any classes, just come here and learn….but promise me, one year from now, you will teach for me…..".
Man, that's when I started salsa. So much encouragement on my first class, and so much of enthusaism in the club, no racism, no sexism, no ageism etc etc etc…..I loved it and stayed with it.
And to add to that, in my very first congress as an attendee, I was asked to teach. That was in the SALSAWEB CONVENTION in Toronto, in April 2001. I know there are so many talented dancers out there, who are never given that oppurtunity that I was once given, that's why I don't take what I have for granted. I love what I do, and do what I love. Dance like there's no tomorrow.
Johnny: You have some of the best turn patterns that I have ever witnessed. At some point dancers reach a point where they begin learning advanced patterns, making up patterns, then developing a certain style of dance. You have pretty much mastered the style of executing cross-body lead turn patterns. Where does your creativity come from? At what point did you realize you had a special gift for creating and executing turn patterns?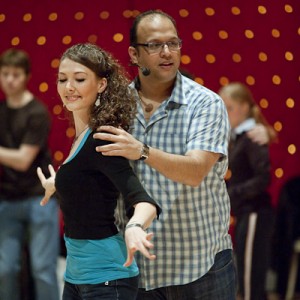 Mario: Thanks for your comments man. I appreciate it. From the very beginning of my intermediate class, I used to change the turn pattern that was taught to me. And I used to come up more intricate stuff. Sometimes to such an extent when the teacher used to ask me what I would come up with, and he used to teach that in class….giving me props, of course.
I am a mathematician, so I guess, numbers and angles have always played a part in everything I do. 😉
I don't know, turns and combinations, just keep croping up every week in my head. And no, I don't practice them or think and dream about them, day and night. 😉
Had alot of inspiration from Mr Eddie Torres, Ismael Otero, Santo Rico, Frankie Martinez, Salsa Brava and many more (sorry, if I have not mentioned anyone)…..
Johnny: I have learned so many turn patterns that will only work in Choreography. However, I have watched clips of your dancing and executed your patterns the moment I figured them out (Thank God for Slow Motion!) How do you develop advanced, yet practical, turn patterns that will work in almost any social environment of dancing? How often have you seen a turn pattern that you created done by someone else socially, taught by someone else, or performed on stage by an individual or group? How does this make you feel?
Mario: As you are aware, I don't do shows. I'm just a social dancer and an instructor. So it is very important that moves and combinations I do, are meant for the social scene. I have so many combinations, that are choreographed, that I would never teach or try on anyone on the social scene.
I have had alot of my stuff used and executed by dancers and performers. When I see them, in shows……I feel so good knowing someone is using it and using it well. I like that. But I like it even more, when someone has taken one of my combinations and changed it and made it better, than I originally had……now that makes me feel good, cuz I know they have put some thought into it, rather than, just using the original, if you know what I mean.
As for the teachers, I wish some of them would give respect where respect is due. Learn that people, you will be respected more, by your students.
I still do classes, whenever I get a chance in a congress….and if I decide to use the same move, I have no shame in naming the instructor, with whom I learned that particular move. People respect that.
Johnny: You currently reside in the UK, but frequently travel all around the world to teach and dance salsa. I personally feel that Salsa/Mambo is a universal language. As a dancer who is admired all around the world, do you feel the Salsa is a universal language? What is the most beneficial aspect about doing salsa all around the world?
Mario: Yes, I do live in London, UK. And travel pretty much every weekend, around the world. I always used a quote from a long time ago….. "Salsa is a universal language, don't speak it, when you can dance it."
I thought about that, when I came back from a tour of Japan, where no one understood me, so I just shut up and did moves. And when I saw the same moves executed in the evening parties, I thought about that quote. It makes sense.
The most beneficial factor for me, personally, is that the same music, is intepreted so differently from city to city, culture to culture, person to person. Yes, we as instructors bring some inspiration to the locals, but they intepret everything themselves later on, and I like that.
This dance is growing at an incredible rate, and watching people enjoying it, WOW, its just something else.
Johnny: Any Additional comments:
Mario: I hate self promotion, but I have a new website and I have decided to put clips of my social dancing, from different countries…..to encourage people to go to congresses, give moves and combinations away to students who want to learn, promote myself (lol) etc etc etc.
This is Super Mario saying " Keep your feet tapping "
.
Super Mario
www.millionmovesman.com
---