An Interview with Victor Perez (Boston) by Johnny Johnson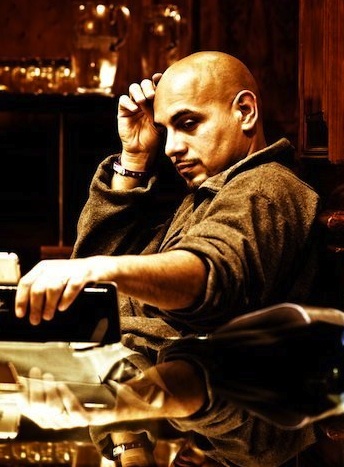 Johnny: First and foremost thank you for granting La Voz Del Mambo an opportunity to interview you. Hacha Y Machete and Fogarate are two of my favorite groups. Since you are involved with both projects, an argument can be made that you might be one of my favorite salsa performers 🙂 Nevertheless, I have gained a ton of inspiration watching you perform with these two salsa powerhouses. How did you get into dancing and performing salsa?
Victor: I started dancing salsa in High School. The main reason…. Girls. I'd have to say that knowing how to dance salsa gave me an upper hand over the non-salsa dancers in high school and college. My main inspiration for dancing salsa while growing up was my parents. Even though they did very little turn patterns, they had a smoothness and glide that just kept me mesmerized.
After college, I continued dancing in the clubs but counting (On1, On2, etc) had no meaning to me; it was to chill. Then in 1998 a friend of mine named Dania needed guys to do a salsa routine at Boston University for a Talent Showcase. There was a lack of guys at her college that could dance salsa, so I agreed to help out. I ended up with a Turkish partner by the name of Burju.
A year later, after the show and when Burju graduated, we decided to continue practicing and formed a group called Hacha Y Machete; and here we are today. Sammy Lopez, one of the founders of Hacha y Machete, was the first person that taught me about counting (dancing On1 and On2). Initially I was stubborn, but I finally got it and dancing salsa became so much easier and fun.
Johnny: Who are some of your most influential salsa instructors?
Victor: Sammy Lopez for teaching me how to dance On2 and counting in general; Thomas Guerrero for his great technique; Juan Matos for his innovative style and body movement (The man is a machine); and Burju for her hard work and dedication (this women is like the energizer bunny). These have been a few instructors that I have had the pleasure of learning from or observing over the past few years.
Johnny: Both Hacha y Machete and Fogarate have very complex choreographies. How do you deal having to learn and perform so much material?
Victor: In the beginning it was very hard just trying to keep one routine in my head but as time went on my brain began to absorb and retain more material. The hardest part was doing all the different body movements and styles that each routine demanded. So to answer your question, the more you practice the more you learn. Lol
Johnny: As the co-director of Hacha Y Machete, what do you look for in a dancer during the selection process? What are some qualities that are a must for the next Hacha dancer?
Victor: When we look for new group members, they need to be able to fit into the family atmosphere. We have always considered Hacha a very close group of friends and we always want to maintain that. The qualities we look for are hard-working and dedicated individuals that are ready to step up to the daily challenges.
Johnny: Your dance partner and fiancée, Burju, is an extraordinary dancer. How would you describe your experience as her partner?
Victor: It's great! I have had the pleasure of watching grow in her dancing and it amazes me when I watch her social dancing. She just creates and moves in ways that the body is not meant to move (lol). She still has not accepted the fact that she's a good dancer. I still see her working very hard everyday, which is very motivating to me and the team.
Johnny: Truthfully speaking, that Hacha routine damn near brings tears to my eyes and I'm not a real emotional dude. What is the secret to coming up with these extraordinary choreographies?
Victor: Thanks for your kind words J. We always try to dance to what the music is telling us; so every choreography is inspired by the song that we are dancing to. As you know, Burju has the song playing 24/7, so you can't help but make the music part of yourself. As a result, ideas and movements begin to evolve into the choreography.
In addition, we always like to challenge ourselves with the various styles and movements. As you've seen with our routines (Guarachando, Huerfanito and Hacha) they all have a different flavor.
Johnny: Earlier this year I got a chance hang out with you and Burju in Boston. The vibe between you guys, Ana & Joel, and Salsa Y Control is amazing! You guys are actually good friends and hangout with each other. It is no secret that top-notch dance teams residing within the same communities tend to keep their space from one another. Assuming that everything I saw was real, how do you guys get along so well and keep the vibe so positive?
Victor: Everything you saw was definitely real and I guess you can say we all grew up together. We have known each other for more than 6 years. From the beginning we have always helped each other and supported each others events.
I'm not sure what it is but we have something very unique and I'm grateful to have such talented dance teams around me that I can always count on. I feel that the positive vibe definitely comes from everyone remembering that dancing salsa is meant to be fun and entertaining; whether it's on On1, On2 or on9.
Johnny: You guys get to travel a lot and I'm not talking about LA, NY and PR, no…you guys are all over the solar system, performing on Jupiter and Venus. Seriously, you guys are overseas quite often, what has been some of the most memorable trips that you have taken?
Victor: I'd have to say Italy. The architecture, history and food blew me away. I had the chance to visit the Vatican, The Sistine Chapel, and Coliseums. The history books do it no justice. Italy is just beautiful.
London, that's a whole different story. Just experiencing the difference in everyday life there was interesting; be it driving on the opposite side of the road or there gorgeous buildings. I'd also have to say that the people in London are great, from Super Mario, Shawn, Marchant, Pepi, Candice and everyone else that we had the pleasure of hanging out with. They are just so welcoming and friendly.
I love every single country that I have been to. I just thank God that he has blessed us with opportunities to travel and see these beautiful places.
Johnny: What advice would you offer to those aspiring to be great performers, namely guys?
Victor: I would say make sure you are not only performing to the song, but that you are feeling it. Make sure that the music is moving every part of you on that stage. Another thing is Perfect Practice. You can practice for hours but if you are not practicing the right things or doing it right, then you are only perfecting bad habits. So once again…. Practice does not make Perfect, Perfect Practice Makes Perfect.
Johnny: Who are some of your favorite dancers on the scene?
Victor: I love watching, Juan Matos, Carlos Jiminez, Super Mario, Fernando Sosa (Tropical Gem), Ismael Otero, Joel Masacote, Gavin(Fogarte), Prenda(Fogarate) and Johnny and Andres(Salsa Y Control). I'd have to say that these guys are always having fun on the dance floor. You can always see them creating or just having fun. That's what I'm always looking for.
Johnny: Where you do want to see Hacha y Machete 2 years from now
Victor: I would love to see Hacha doing a lot more work locally for the community with young kids. Hopefully with the opening of our studio in June we will be able to accomplish some of those dreams locally. As for internationally, I hope we can continue to entertain people and teach anything and everything that we have to offer them.
Johnny: Any Additional Comments:
Victor: I just have to say that you are doing one hell of a job, taking your own personal time to interview and produce one great publication that is reaching the masses. So I have to say thanks for creating and running La Voz del Mambo. It's great.
Victor Perez
---