An Interview with Jhesus Aponte (New York) by Johnny Johnson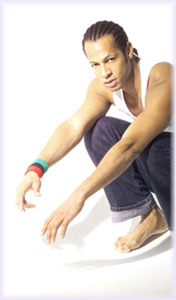 Johnny: First and foremost, thank you for granting La Voz del Mambo an opportunity to interview you. You possess extraordinary dance talent and experience. This experience includes dancing alongside with Michael Jackson, Macy Gray, Tamia, Sonique (Tour), Paulina Rubio and Gloria Stefan; along with doing choreography for Jose Alberto, Gilberto Santa Rosa, Latin Madness, and Victor Manuelle; just to name a few. With all this dance talent and experience, what keeps you involved with salsa dancing?
Jhesus: First of all, thank you for taking your time to interview me. For me it's an honor. What keeps me involved in salsa dancing is first my heart, blood and soul and of course the money. I make money, while I'm doing what I love. I've been dancing salsa since I was 3. I come from a musician's family and of course salsa was always "El Pan nuestro de cada dia" (like a prayer). I'm a versatile dancer, so I divide my career amongst, salsa, jazz, hip-hop, musical theatre, choreography, and teaching; so I don't get bored and can continue loving my job.
Johnny: How did you get into dancing and performing salsa?
Jhesus: I've been dancing salsa, since I was a kid, my sister and my parents used to take me to Fiestas Patronales in Puerto Rico (Every Town has a Saint Patron) and they used to celebrate these for 10 days, every night there would be different Salsa bands. So everyone used to go and dance and challenge each other.
When I was dancing, everyone used to gather around and the women used to tackle each other to dance with me. For me it was like performing all the time. It was so much fun. They used to say, that's the kid from Carolina, (where I grew up, most of the best salsa dancers in PR where from Carolina). Most people think I'm from there but my mom was born there.
As a professional my first show was with the Latin Star Wilkins (He sings the song "Margarita"). I replaced one of his dancers. His choreographer was my teacher at Bailos dance co. where I started training as PD., after that Stacy Lopez called me for Gilberto Santa Rosa, other choreographers for Deddie Romero (Willie Rosado), Sonora Poncena(the late Papito jala jala), El Gran Combo (Felipe Polanco) etc. Eventually I started dancing internationally with my own company (Jhesus Aponte and Salsor Latino dancers), I haven't stop since then.
Johnny: Amongst all of your tremendous dance experiences, which are the most memorable?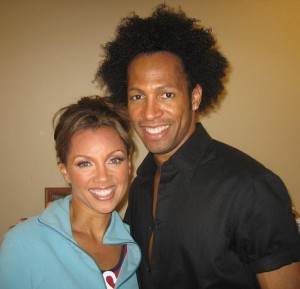 Jhesus: I love what I do and what I've done. I always go back and have those flashbacks about my career. The most memorable has been my own tour. I've been the main Artist and I don't have back up dancers. It's great when you see your face, name and pictures on posters, flyers, promos, videos, and your fans around the world (which I have to thank for their great love and support), That's definitely been memorable.
Johnny: How would you describe life of a professional dancer?
Jhesus: Very hard, but not impossible to make it big. You have to be discipline (mind and body), meditate, mind your business, study all type of dances, go to theatre, see shows, and invest money. After all, this is your career…
Johnny: If you could change anything about your dance career what would it be?
Jhesus: I always thought that I wanted to be a trained dancer since my early days but maybe I wouldn't be as successful as I am now if I was trained very early on. It's been wonderful and every single experience counts. Meeting new people, learning everyday, being admired, copied, and being an example for others. The highs and lows; when you have to go through all these moments and meditate to recharge your batteries, in order to get ready; Ready to go again to the battle. A fabulous battle of something that you dreamed of, but you really believe you can do.
Johnny: Who are some of your favorite performers outside of salsa?
Jhesus: Outside salsa, dancers like the late Eddie Vega (impresive), Billy Fajardo, some dancers from Alvin Aley co; also dancers from Andanzas from PR.
Johnny: Who are some of your favorite salsa dancers?
Jhesus: Felipe Polanco, Tito Ortos, Tania Santiago, Nancy Ortiz, Candy Mena, Frankie Martinez, Juan Matos, Vazquez Brothers,Franklyn Diaz Eddie and Maria Torres, the Late Papito jala jala, and Marielys Molina (my soul mate). These are my top dancers, but I have favorites that I really enjoy watching.
Johnny: As you may know, dancing socially and performing on stage are two totally different experiences. For those aspiring to be great performers, what advice do you offer?
Jhesus: Please, learn from everyone, but don't be a copy cat. Be original, try to be unique. You can take a bit from your favorites, from your teachers but… don't. Train in jazz, hip-hop, ballet, stage presence, take coaching, acting. That will give you the tools and more material to look like a real professional, whether you decide to keep your raw style or not.
Johnny: As a profession dancer, do you still get nervous before a performance?
Jhesus: Off stage, I get very anxious hoping that the audience will like my performance and that I won't forget my steps. Most of the time I have tricks and lifts that are really difficult and I want them perfect. My stomach gets butterflies and my hands sweat.:-D
Johnny: Where would you like to see salsa dancing 5 years from now?
Jhesus: I would like to see more respect for the salsa ambassadors. They are the ones that promote the salsa where the real singers and bands can't go. But it has to be also vice-versa. Give respect and get respect. I would like to see everyone at least learning how to dance SALSA.
Johnny: Any additional comments:
Jhesus: I really appreciate you're bringing this forum and you are giving us (performers, instructors) the opportunity to be informed of what is out there in our Salsa World. Keep doing it!!! y Que Viva la Salsa
Jhesus Aponte
---