by Rick Greenfield StuckonSalsa Atlanta correspondent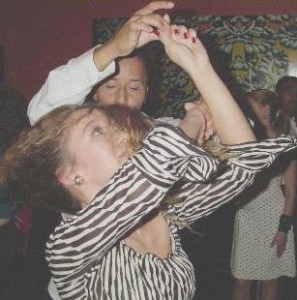 Imagine this – the Piel Canela Social has ended, yet the night is still young and Salseros are aching to feed the Salsa Beast. This voracious appetite results in a "10-deep"caravan of cars leaving Buckhead winding through busy streets of Atlanta one Saturday night with one goal in mind.Salsero Nirvana, more commonly known in Atlanta as a "Salsa House Party".
Welcome back to the way it was done before clubs, lines, and VIP rooms. The Salsa House party is a Salsero's Dream come true. Evil DJ's are forbidden, and unable to ruin a Salsero's night with senseless mixing. Since it probably was the hardwood floors that sealed the deal on the purchase of the house, the dance floor is always in great shape for dancing and socializing. When dance space is an issue, it is often compensated by appropriate dance etiquette, which is common at a house party and uncommon at a club. What more can a Salsero ask for? The Salsa House Party is a Salseros dream. This dream has become a common reality in Atlanta.
Naturally, there are a few House Party rules that should be followed. Don't be a "House Party Freeloader". Bring some food or beverages, the host should only be expected to provide the house. With all due respect, don't ask the DJ to play more bachata, merengue, Hip-Hop or House. Don't get me wrong, I like all types of music, but this is a Salsa House Party. Always clean up after yourself and others if necessary. Never disrespect the home.
The Atlanta Salsa scene has witnessed strong and promising growth over the course of the year. We have established nighclubs with Latin Nights at Tongue and Groove, The Compound, Sanctuary, and Havana Club. We have events promoted by Salsa dancers for Salsa Dancers, like Tu Tu Tango (Victor Olivo), Apres Diem (Julian Meija), Platinum Club and Plaka (Alfredo and Jen Piceno), Piel Canela Socials (Sheila Sampath), and AfriSalsa Socials (Anana Harris). Now we have dance parties that we can truly call HOME.
---